Premium Lawn Care Services for Residential, Commercial, & HOA Properties in Forney, TX
We offer fertilization, weed control, core aeration, and even shrub fertilization!
Named by the Texas Legislature as the "Antique Capital of Texas," Forney is part of the Dallas-Fort Worth metroplex in Kaufman County. A little over 27,200 people call Forney home, where rural and suburban living mix together in harmony. If you have children, Forney Community Park is a great place to take them and get their energy out on playgrounds, a splash pad, or on a walking trail. Meanwhile, you can learn more about the city's history at the Spellman Museum of Forney History.
Whether you own a residential, commercial, or HOA property in Forney, TX, our crew at Arboreal Lawn & Landscape can give your lawn all the TLC it needs to stay healthy and verdant year-round. We offer premium lawn care services like fertilization, weed control, core aeration, and even shrub fertilization!
---
Enhance your property's curb appeal with a well-cared-for lawn.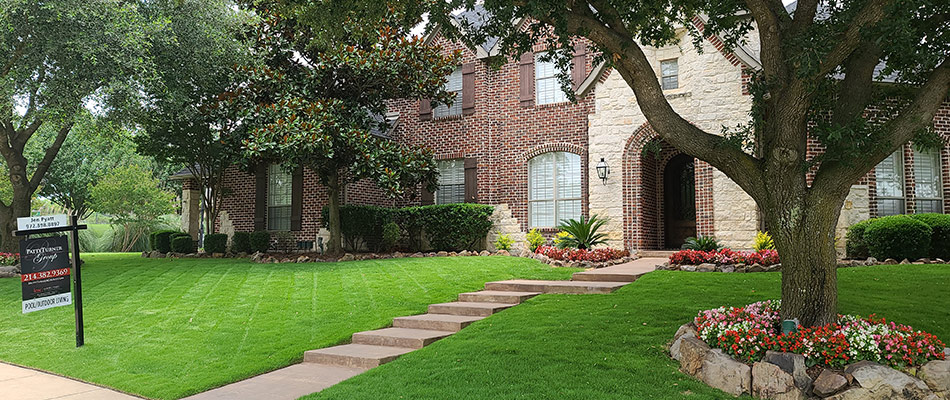 When a well-cared-for lawn adorns your property, it enhances its curb appeal, and we can do just that with our lawn care services! The first step to an equally healthy and lush green turf is fertilization, and we'll apply our treatments four times from mid-March until mid-September to give it all the nutrients it needs throughout the growing season. However, the nutrients won't be enough if weeds steal them - which is where our weed control treatments come in! We'll utilize pre-emergent weed control treatments from mid-September until mid-March to prevent any more pesky nutrient sappers from surfacing. Meanwhile, weeds that have already sprouted won't stand a chance against our post-emergent treatments, which we'll apply throughout the year to control the population.
Fungal diseases like take-all root rot and brown patch will harm your turf if left untreated, but we'll eliminate them with our curative lawn disease control treatments! We offer preventative grub control treatments in June-July to get ahead of damage-causing grubs before they cause problems for your lawn. If you are dealing with a current grub infestation, we can eliminate them with our curative grub control treatments. But wait, there's more - we can also tackle fire ants with our one-time fire ant control treatment, which we'll apply in early or mid-spring to protect you from their fiery bites for an entire year.
We'll core aerate your lawn in April-May to loosen compacted soil and improve your turf's nutrient intake. However, we don't stop there! Your plants are focal points, and keeping them healthy is as important as your lawn. Now enter our shrub fertilization service, where we'll apply our granular treatments around the drip lines of your plants. We'll administer these treatments four times, from March until October, to give them all the nutrients they need to stay vibrant all year!
---
Sign Up for Our Lawn Care Services to Enjoy a Pristine Lawn All Year
If you want to enjoy a pristine lawn all year, you've come to the right place! Here at Arboreal Lawn & Landscape, we offer lawn care services to homeowners, business owners, and HOA property owners in Forney, TX. Call us at (972) 521-6227 to sign up and transform your lawn into the most beautiful one on the block!