Lawn Mowing Service in Rockwall, TX & Nearby Areas Like Wylie & Rowlett
We won Angi's Super Service Award for excellent performance in Rockwall, TX and nearby cities!
When caring for your lawn, there's a lot to consider – but we make it our business to be experts on every detail of lawn care so you don't have to! For our area, the best practice is to first scalp your lawn in February before mowing season to eliminate any dormant grass so that your lawn can start with a fresh slate. Our mowing program runs from April to November with weekly mowing from April to September and bi-weekly mowing during the other months. When mowing, we'll keep your grass cut at the optimal height and adjust as needed for year-round health.
Our lawn mowing service is available for commercial, residential, and HOA properties in Rockwall, Wylie, Rowlett, and surrounding areas in Texas. Call today to enroll in our lawn mowing program!
---
We start in February with professional lawn scalping to get rid of dormant grass.
To start off the growing season right, we highly recommend our professional scalping service to get rid of any dormant grass and make way for new growth. Our team will accomplish this by mowing your grass very short and cutting off a majority of the blade, but no worries – this won't affect the long-term health of your lawn! Our scalping service also helps reduce thatch build-up in the lawn, which if left unchecked could cause problems for your grass in the future. We typically perform this service around the last week of February.
---
We'll mow from April through November and also string-trim, edge, and blow away debris.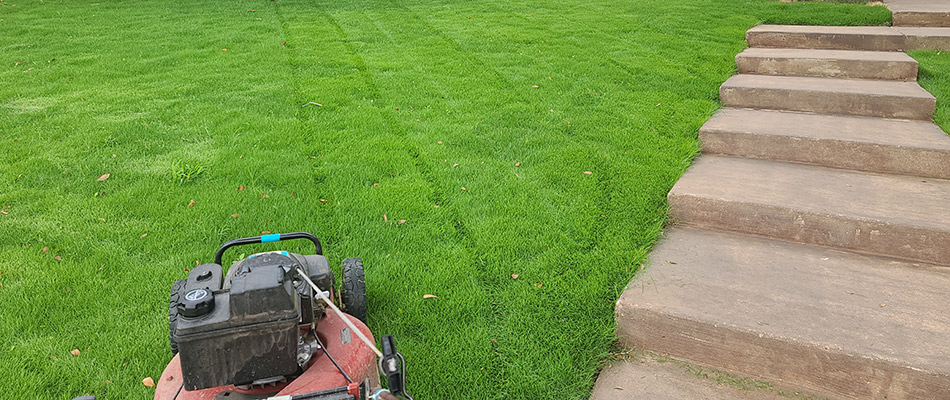 Our team will mow your lawn weekly during peak growing season, from April to September, and then bi-weekly through the last week of November or the first week of December. If you prefer, we can adjust this schedule and create a custom program made just for you! During the coldest months from December to February, your lawn will not need to be mowed regularly while it's in a dormant state. Our lawn mowing service will also include:
String trimming: We'll be sure to get every blade that needs to be cut by utilizing our string trimmer for hard-to-reach areas.
Edging: Our technicians will edge around the borders of your property.
Blowing away debris: We'll blow the clippings off of your hardscape areas such as sidewalks and driveways.
We'll leave grass clippings on the lawn as mulch, but if you prefer, we can add bagging to your lawn mowing service.
---
Our team will rotate mowing patterns and adjust grass height as needed throughout the year.
Your lawn is in excellent hands with our team, who will adjust their cutting techniques through the year to exactly what your grass needs. At the beginning of the season, that means a starting cut height of 1", and then it'll move up to 3" during hot summer months when your grass will benefit from having a longer blade. We'll also rotate our mowing patterns so that there are no grooves or points of soil compaction building up.
---
Call us today to schedule your next lawn mowing service!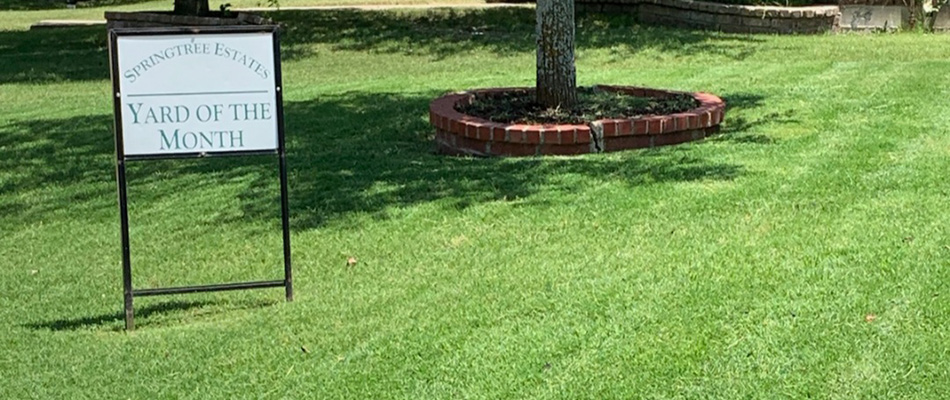 If you've been searching for a dependable lawn and landscape company for all your mowing needs, look no further! At Arboreal Lawn & Landscape, we pride ourselves on treating every lawn with the same care that we show our own at home. Our trained professionals take extra care to avoid toys, sprinklers, and fences while mowing and will ensure that they adjust cutting techniques throughout the year to best suit the needs of your grass. We offer these services to property owners in Rockwall, Wylie, Rowlett, and nearby cities in Texas. Call us today at (972) 521-6227 to schedule your next lawn mowing service!