Holiday Lighting Installation in Rockwall, TX & Surrounding Cities Like Wylie & Rowlett
Our team of professionals will create a custom holiday lighting design made just for you!
People always have the best intentions when it comes to the holiday season, but things get busy very quickly. Take one thing off your plate and let us install your holiday lighting for you! This service includes the design, maintenance, installation, removal, and storage of your new lights. The design will be entirely customized for you, and we can even incorporate wreaths and garlands for some extra pizazz! We have both rental and purchase options available for our lights, so there's an option for everyone.
If you're in or around Rockwall, TX or nearby cities like Wylie and Rowlett, our team is ready to help. Call us today at (972) 521-6227 to get a quote for your holiday lighting solution!
---
Our holiday lighting installation is all-inclusive, including design, maintenance, removal, and more!
When you decide to hire Arboreal Lawn & Landscape, we make sure you don't have to worry about anything else from that point forward. Our holiday lighting installation is all-inclusive so your only job is to enjoy the beautiful light arrangement with loved ones! The included services are:
Design: Our team will create a custom lighting design for your home and landscape. (More on this below!)
Maintenance: We'll be on standby to perform any maintenance on your lights needed throughout the season.
Installation: Professional installation means your lights will be secure with no damage to your home.
Removal: We will remove your lighting after the holiday season is over.
Storage: Your lighting will be safely stored while not in use until the next holiday season rolls around.
With every facet of your holiday lighting covered, you can rest easy knowing that whatever tomorrow brings, we'll be there to handle it!
---
Our team will create a custom holiday lighting design for your property.
Every property is different, and everyone has a different vision for what they want out of their holiday lighting. That's why we emphasize taking those factors into consideration and creating custom designs for each holiday lighting job! Whether we're decking out your home or business, we want to make sure that our lighting not only spreads holiday cheer but accentuates the most beautiful parts of your landscape. These lights will also be able to be controlled through wifi connection on your phone if you ever want to change things up. To take it to the next level, we also offer the option to lease wreaths and garlands to add extra interest to your lighting design!
We're proud members of the Christmas Light Installation Professional Association!
---
We offer both rental and purchase options for holiday lighting.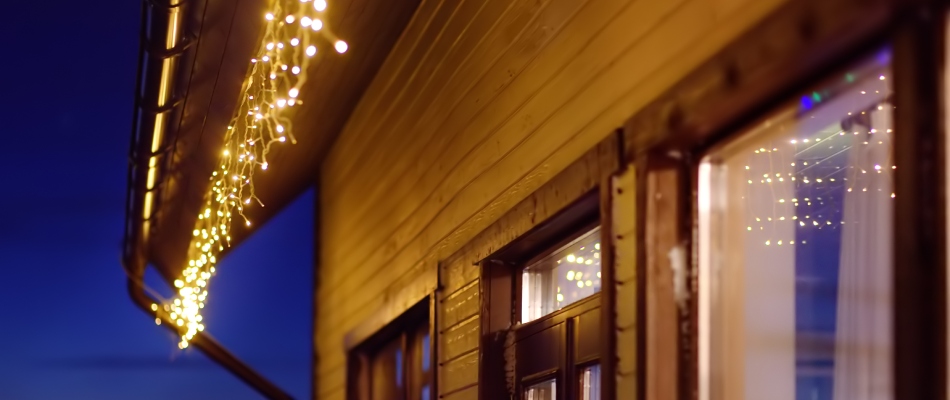 We believe that everyone should have access to the holiday cheer we provide, so we try to offer flexible options for our holiday lighting installations. After all, as the saying goes, the more the merrier! We offer both rental and purchasing options so that you can utilize whichever method works best for you. Both options will give you our all-inclusive service with maintenance, storage, and removal.
Our holiday lighting installations will have a two-year warranty on all light purchases so you can feel secure in your investment!
---
Call us today to schedule your holiday lighting installation!
This holiday season, let your home and landscape lighting represent the cheer you feel inside! Our team of professionals can provide exceptional holiday lighting services to your residential, commercial, or HOA property in Rockwall, Wylie, Rowlett, and nearby areas in Texas. The Arboreal Lawn & Landscape difference is providing not only best-in-class service but above and beyond customer service to go along with it. If you're ready to get started, call us today at (972) 521-6227 to schedule lighting installation for your next holiday celebration!